March 23, 2001
---
Jimmy, the gay athletic piece of driftwood, jogged through the park.
The cannister played hide-and-seek with his friends in the woods
Billy, the happy can, waved to the other can creatures resting in the shade of a grove of trees.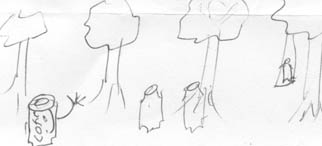 The coke waved in the woods.

"Lookit Jimmy, the can men live in that grove of trees."
"Why paw?"
"Cuz all of us carry can openers."